Essential Supplies for an Eco-friendly School Year
Items we carry and tips for all grade levels
Can you believe it's already time for back-to-school preparations? No matter the grade level, elementary to college, we have something that will make school shopping simple and sustainable. Check out the essential items we carry in-store that will reduce the impact on the environment and your bank account in the long run.
ALL AGES
Reusable Water Bottle
A perfect back to school essential for any student, from elementary to university. They'll stay hydrated and reduce plastic waste!
The Me Mother Earth stainless steel bottles we carry are endlessly reusable, can be used for hot or cold drinks, made of food grade stainless steel, have a bamboo lid, and are made with zero plastic.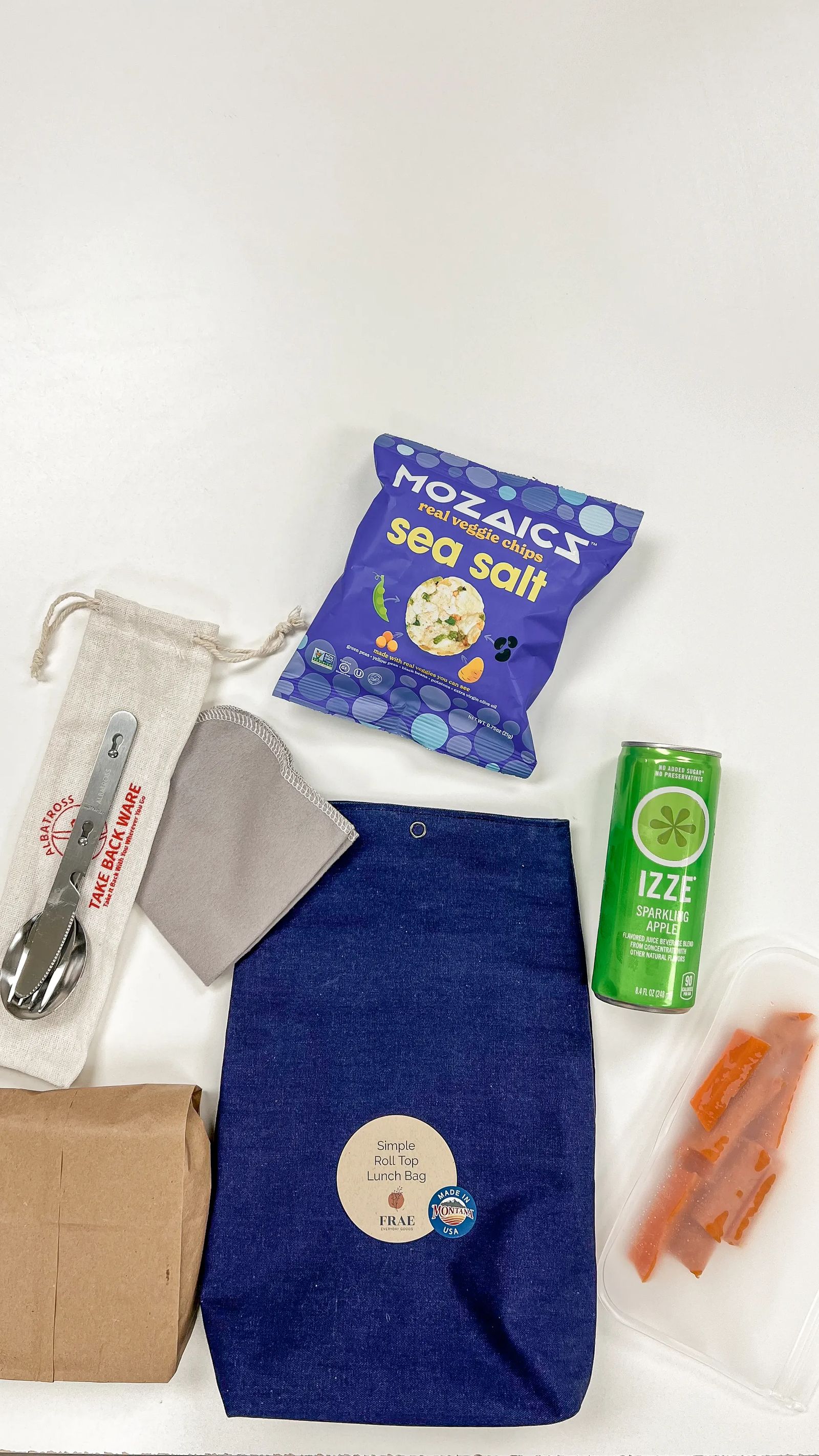 Plastic Free Lunch Bag/Bento Box
Upgrade from disposables and plastic to reusable. Pack their lunch in a metal food container, like a bento box or a fabric/canvas lunch bag like our Simple Roll-Top Lunch Bag. Easily packable into a backpack and keeps everything nice and organized.
Reusable bags/wrap for snacks
Ditch the ziplocks and plastic wrap and opt for reusable silicone bags, beeswax, paper bags, or glass jars to hold snacks, sandwiches, and produce.
Plastic-Free Cutlery
Many companies make non-plastic reusable silverware now, like kits we carry from Me Mother Earth that come with metal straws, and from Albatross that are made from recycled stainless steel shaving razors. Other options include bamboo straws and silverware and cutlery made from sugarcane.
Cloth Reusable Napkins
A cloth napkin in their lunch will go further than paper, can be washed and reused, and will ultimately save you money from having to continually buy paper ones.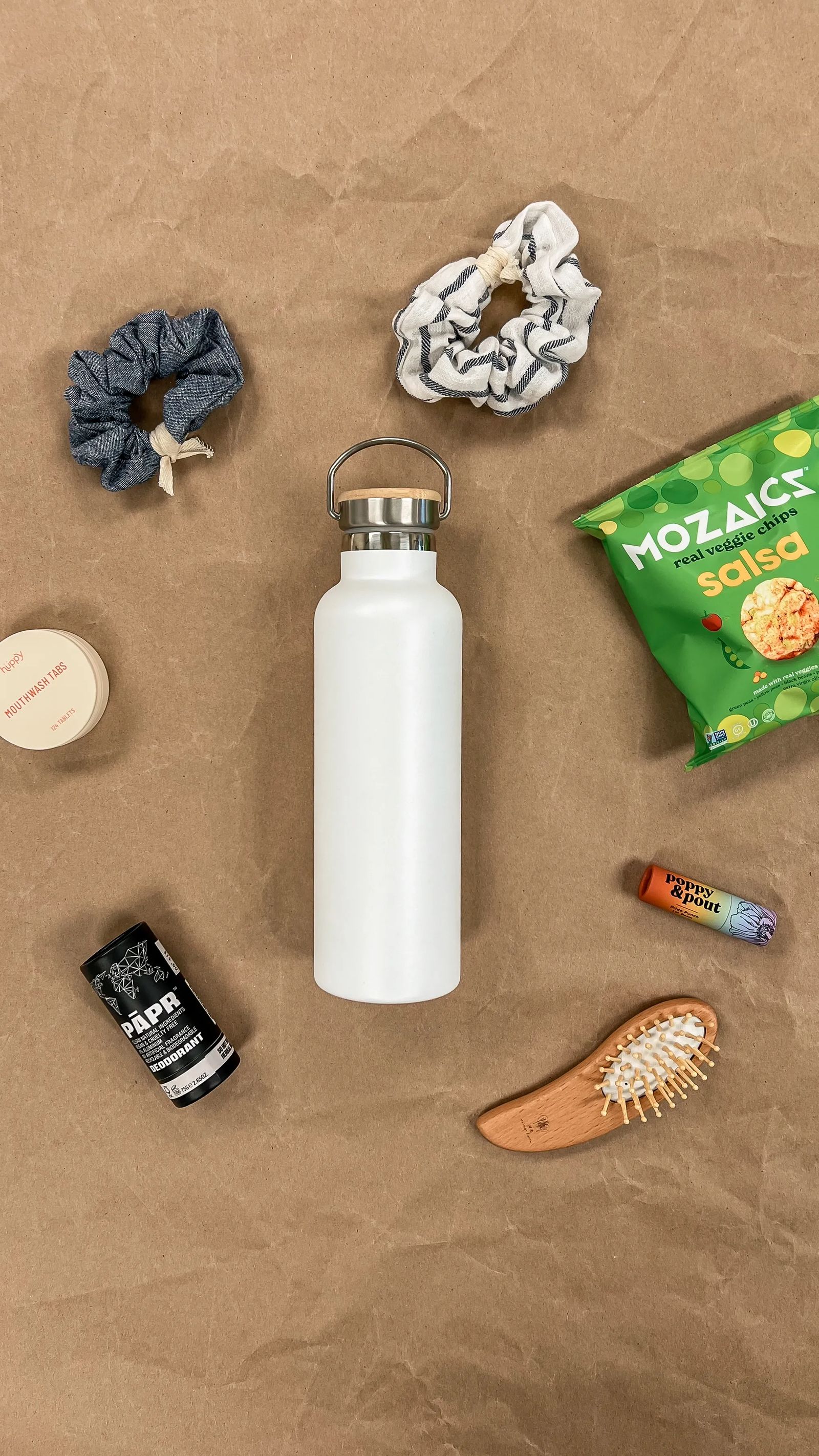 Paper Tube Deodorant
With sports starting back up and teenagers going through bodily changes, deodorant is a nice item to always have in their bag. The plastic-free option we carry from PAPR comes in a paper tube, is made of all natural ingredients, aluminum free, not tested on animals, and biodegradable.
Wooden Hairbrush
Keeping with the theme of personal hygiene and self grooming for teens, we suggest a sustainably sourced hairbrush like the one from Me Mother Earth we have in stock. It's made from sustainably sourced beechwood, is biodegradable, and is travel size so it's perfect to fit in school bags.
Mouthwash Tabs
Our mouthwash tablets from Huppy come in a travel friendly aluminum case so fighting bad breath is easy on the go. Just simply chew, swish with water, and spit. Perfect for between classes, after lunch, and after practice and sports games.
Paper Tube Chapstick
Easy to carry in a pocket, Poppy & Pout lip balm is made with all natural ingredients, comes in paper tube and is available in a wide variety of flavors tinted and untinted.
Hand-Made Scrunchies
Sign your teen up to learn how to make their own scrunchie in one of our learn to sew classes in the Frae workshop or get some of our ready to wear ones that we made right in-store! Making your own clothes is sustainable and fun, a great way to express individuality, and sparks creativity.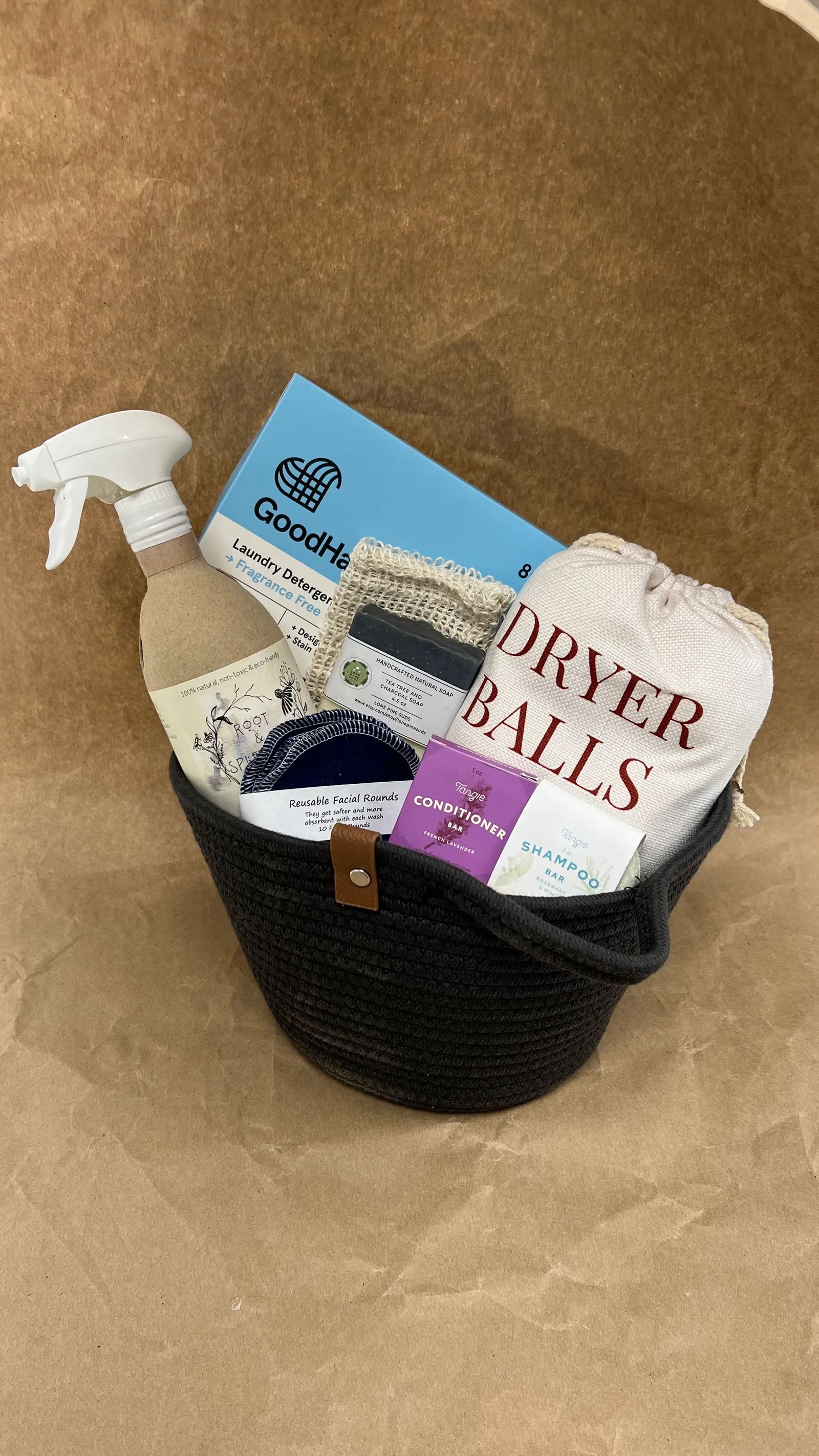 Dryer Balls
Dryer balls can be a big money-saver for a college student. They should last for over 1,000 loads. Most people will use them for 2-5 years, depending on how much laundry they do. Say goodbye to buying dyer sheets every month. This also means no hazardous chemicals in clothes, against skin, or down the drain.
Plastic Free Detergents
We carry a few different plastic-free and economical laundry detergent options at Frae. Laundry sheets are liquid-free, perfect for traveling or on the go, and come in cardboard packaging. Root & Splendor offers a super concentrated laundry detergent that comes with a bamboo measuring cup and in a refillable glass bottle. Laundry soap bars can be dissolved in a large container of water to then be dispensed like normal detergent, or pieces can be sliced or broken off to just toss in the wash. All of these options are great for college living.
Hair Bars
Cut down on the shower caddy load for dorm showers by replacing big bottles with hair bars. Shampoo and conditioner bars are a plastic-free and zero waste. Just simply later between hands or rub directly on the hair.
Reusable Facial Rounds
Let's face it, the college student needs every penny they can save. Reusable facial rounds eliminate the need to continually purchase makeup removing towelettes and cotton rounds. They are made from cotton or bamboo and get softer and more absorbent with every wash.
Bar Soap and Soap Saver
No more plastic loofas and bottled body wash. A hemp soap saver literally does just that - it saves the soap, even when it breaks up into bits and pieces, and gives a nice scrub and lather.