PLASTIC & LIQUID FREE TRAVEL TOILETRIES
Tired of trying to siphon all your necessary liquid toiletries into mini travel-sized containers that all fit into one small bag to pass TSA regulations? Make packing easy and get through TSA without hassle by creating a liquid-free toiletries kit for air travel. Plus this kit is plastic-free so you can cut down on your carbon footprint and feel good about the products you're using!
All of these options are sold in our store and are easy, sustainable and plastic-free swaps for your permanent toiletries you use every day.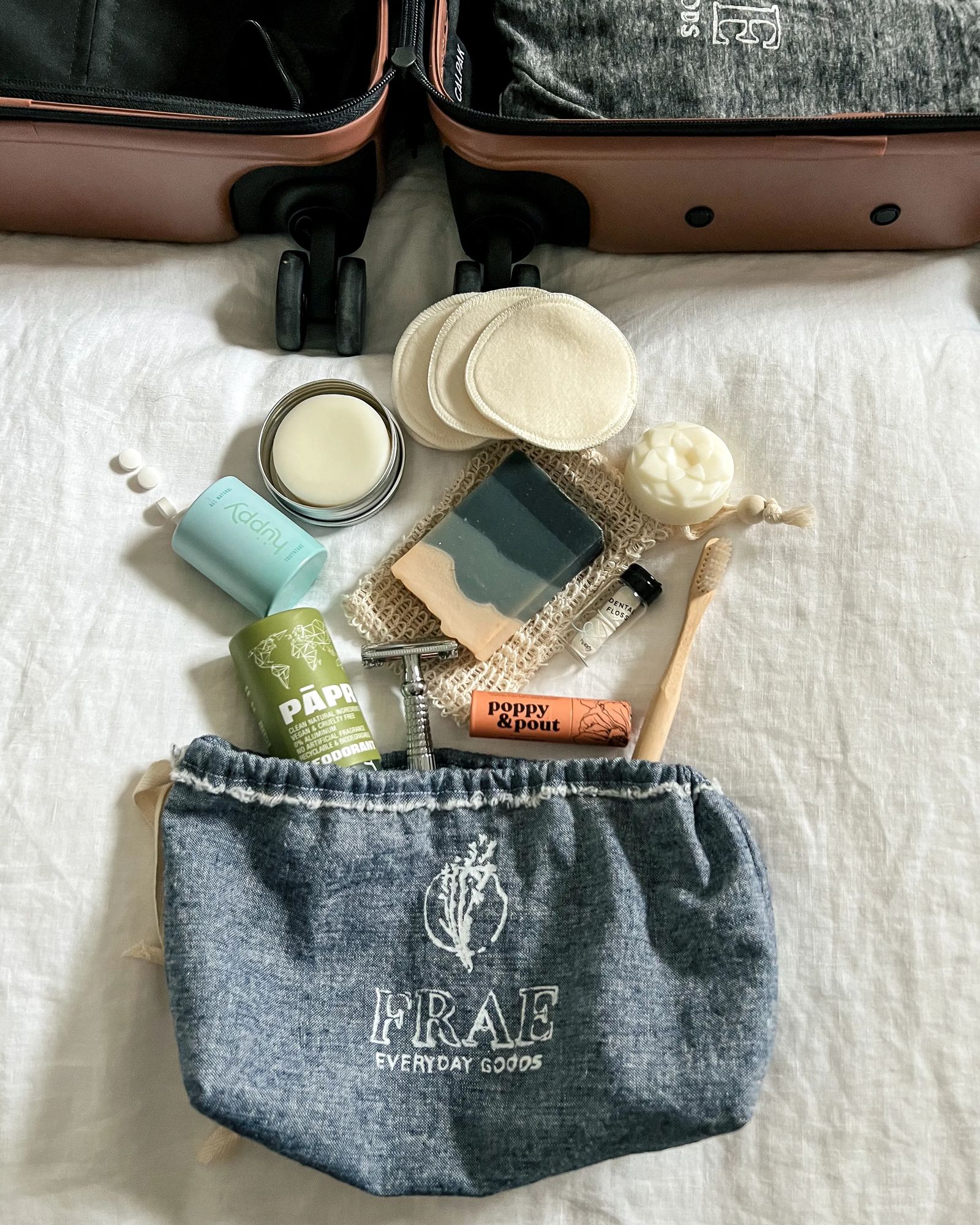 Hair Bars
There are a lot of hair bars out there to choose from. They work just like bar soap, but they're for your hair! We have shampoo and conditioner options in-store from Rock Creek Soaps and Tangie.
Bar Soap
Bar soap is the obvious choice for a liquid-free toiletry kit. This item isn't anything special or new. Just pick your favorite bar soap, get a reusable container to keep it in, and you can use it for showering, washing hands, or even for your face and hair in a pinch. We put ours in a hemp soap saver to double as a loofa for body washing. We recommend our options from Rock Creek Soaps and Fire Lake Soapery.
Toothpaste Tabs
Toothpaste tabs are so easy to use when traveling. They are just little tabs of toothpaste that you chew, and then start brushing! They do not count as liquids in this form, so they are perfect for a solid toiletry kit. We carry and swear by Huppy toothpaste tabs that come in peppermint, charcoal mint, and watermelon strawberry. They come in a travel-friendly aluminum case, making this product plastic free!
Bamboo Toothbrush
This 100% plant-based toothbrush from Huppy is the perfect eco-friendly alternative to plastic toothbrushes.
Dental Floss
No plastic or chemicals here with the Huppy dental floss. Just vegan, plastic-free floss made from vegan Candelilla wax and corn starch. This peppermint-flavored floss glides easily between teeth to remove any unwanted nasties. Plus, it comes in a refillable glass jar!
Paper Tube Deodorant
Solid deodorant sticks are commonplace, but this one we carry from PĀPR comes in a paper tube that is recyclable and bio degradable. Plus their deodorant is made with clean, natural ingredients, vegan, cruelty free and has 0% aluminum.
Stainless Steel Safety Razor
Stop buying plastic razors and opt for a metal safety razor like our favorite from Albatross Designs. The original zero waste razor, Albatross Designs was the first company in the world to eliminate all plastic and waste from shaving. A completely plastic-free shaving kit, the Albatross razor comes with 10 reusable razor blades and hemp storage bag. They also have a take back program where you can send back all your used blades, which are then upcycled into flatware sets!
Reusable Hemp Cotton Rounds
Designed to last for years of use, you'll never have to use throwaway cotton rounds or makeup remover wipes again! Instead, swap to super-soft, reusable hemp cotton rounds! These are gentle enough to be used on all skin types, even sensitive skin, dry skin and delicate baby skin. Our favorites that we carry are from Mother Earth Brand. They come in a mesh laundry bag and are machine washable!
Cardboard Tube Chapstick
Chapstick is already liquid free, but we love the lip balms from Poppy & Pout that are 100% natural, untinted, and come in eco-friendly cardboard tubes! They come in 11 different flavors.
Lotion Bar
Skip the plastic bottle and liquid, but not on the moisture of your skin. A lotion bar is the perfect travel toiletry to keep your skin nice and hydrated. Our favorites come from Lotions & Potions in Red Lodge, Montana. Rub the lotion bar over damp skin for best results.